We will create a unique and personal Chinese name for you or someone you care about.
The name will be printed on one of our beautiful high-quality posters.
or continue reading to learn more
---
We can best illustrate how a Chinese Name Poster is created by using a real-life example.
Meet Maria! She was born in 2018 (Year of the Dog according to Chinese Animal Zodiacs).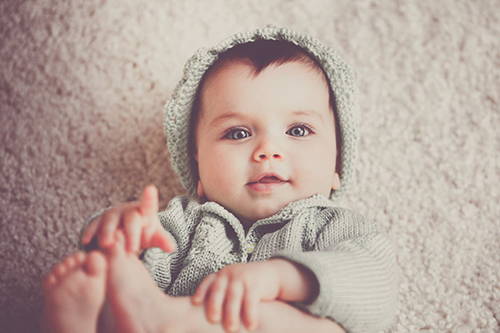 A relative thought it would be a fun idea to get Maria a Chinese Name Poster for her naming ceremony, so she provided us with the following information about Maria:
Non-Chinese Name: Maria Jones
Date of Birth: 2nd of April 2018
Gender: Female
She also picked a few personal traits that she thought would be nice if they were reflected in the name: Ambitious, Compassionate, Confident.
Upon receiving the order our Chinese experts got to work right away and came up with the following Chinese name for Maria:
---
Breakdown of the name
乔

Qiáo
Inspired by the usual Chinese translation of Jones ( 琼斯 Qióng Sī ). 乔 is a common surname across various regions in China. It is believed to have been derived from ' 桥 ' which means bridge and signifies connection. On its own, the character also means 'high'.
睿

Ruì
睿 means clear, wise and far-sighted. The upper half of the character resembles a 'lid on fire ( 火 )' which can be interpreted as 'a spark that is well-managed' while the lower half of the character is ' 目 ', which means 'eye' and therefore represents foresight and good judgement. This is a meaningful character that is perfect for confident, witty and bold personalities.
妤

Yú
Inspired by the first name, Maria, which is one of those timeless and classic names used extensively in many languages, countries and cultures. 妤 means beautiful, clever, charming and elegant. Also used by female officials during the Han Dynasty in China, this is undoubtably a good choice for ambitious females.
---
This is just one example of how our experts craft a Chinese name. Creating the name is a complicated process that you can learn more about here. What makes our service unique is the effort we put into each Chinese name.
Sometimes people ask us why they cannot preview their Chinese name before ordering a poster. This is simply not possible since each name is created individually, there is no automation in this process.
When you order a Chinese Name Poster you also get access to your own personal page where you can find a detailed breakdown of your name, as well as more information about your Chinese Zodiac.
Ready to create your own name poster?