This is an example of a unique Name Page. When you place an order, not only will you receive a beautiful poster, we will also send you a link to your own unique Name Page.
---
Breakdown of the name
乔

Qiáo
Inspired by the usual Chinese translation of Jones ( 琼斯 Qióng Sī ). 乔 is a common surname across various regions in China. It is believed to have been derived from ' 桥 ' which means bridge and signifies connection. On its own, the character also means 'high'.
睿

Ruì
睿 means clear, wise and far-sighted. The upper half of the character resembles a 'lid on fire ( 火 )' which can be interpreted as 'a spark that is well-managed' while the lower half of the character is ' 目 ', which means 'eye' and therefore represents foresight and good judgement. This is a meaningful character that is perfect for confident, witty and bold personalities.
妤

Yú
Inspired by the first name, Maria, which is one of those timeless and classic names used extensively in many languages, countries and cultures. 妤 means beautiful, clever, charming and elegant. Also used by female officials during the Han Dynasty in China, this is undoubtably a good choice for ambitious females.
MARIA IS BORN IN THE YEAR OF THE DOG
---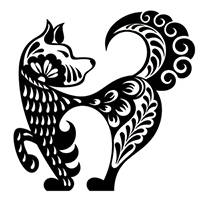 ---
People born in the year of the Dog will always be there for friends and family in need.
Their most significant characteristic is their loyalty.
Considered honest and fair, Dogs are liked in most social circles.
Dogs will do everything for the people who are important to them.

Roses and Cymbidium Orchids


---
Winston Churchill
Mother Teresa
Elvis Presley
Donald Trump
Michael Jackson
Justin Bieber
---
Want a cool, personal and unique name page just like this? When you order one of our beautiful posters we will email you a link to your own personal Name Page as well!